An artistic search for traces in the shared past of young people from Germany and Greece
"Young people from Germany together with young people from Greek Martyr communities do research in Ravensbrück and Kalavryta in order to deal creatively and narratively with the history of the people in these memorial sites.
FOOTPRINTS IN SILENCE is a project of coming together, questioning one another and oneself, finding common ground beyond generations of hardened, mostly confrontational narratives. It is a journey in the footsteps of silence, metaphorically and literally. German and Greek young people visit places of remembrance – Ravensbrück and Kalavryta – on their search for traces of the common past. They research, write and create art, giving voice to the place and victims.
There are over 100 Martyr communities in Greece. Places severely hit by Wehrmacht atrocities during the German occupation of Greece in World War II. Like the Holocaust of the Greek Jews, it is a chapter in the history of the Second World War that is hardly known in Germany. The crimes of the Nazis have shown the devastating effects of disregarding human rights. Approximately 55,000 Greeks were deported to concentration camps. Gaps that hinder the perception of these places and the history of their people, the silence that envelops the fate of the people are filled here by an expressive, intercultural and interdisciplinary work of art of the youth programme.
10 participants from Germany, 10 young Greeks from Martyr villages and young people interested in art and history, aged 18-23.
1. Youth exchange: August 11-18, 2019 in Ravensbrück (former concentration camp and memorial) and Berlin
2. Youth exchange: October 03-10, 2019 in Kryoneri Korinthias and Kalavryta
Partner organisations:
Elisson gUG – A North-South connection (non-profit company) – Berlin
DJH – German Youth Hostel Association
FILOXENIA – Intercultural-Environmental Organization, Kryoneri Korinthias
This project is a follow-up activity to a German-Greek specialist exchange that was carried out by the DJH in December 2018 at memorial sites and former concentration camps in Germany.
The youth exchange project in Germany and Greece is funded by the EUROPEANS FOR PEACE: celebrate diversity! youth exchange for all of the Foundation "Remembrance, Responsibility and Future", with support from the German Ministry of Families, Seniors, Women and Youth (BMFSFJ) – Special Programme for Greece.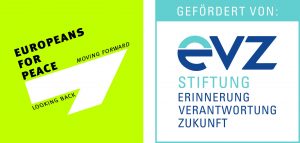 Project team:
Anja Hack, Dipl.Wjur., Project coordinator with a focus on international inclusive project management, has been an international consultant since 2008. Anja organized and coordinated German-Greek projects, including international youth exchanges and European specialist programmes.
Christian W. Find, radio author, speaker and sound artist. Lives and works in Berlin. In his project Tonspurleben, he produces audio biographies. Since 2012 Christian has held audio workshops on the creative use of sound, noises, voices and silence in cross-generational memory projects.
Alicja Miszczor, certified lecturer in contemporary dance technique and improvisation in dance and in dance theater, lives and works in Kraków. With her InterArt dance method, drama of movement, Alicja accompanied a variety of creative and international youth encounters.
Dr. Matthias Heyl, Ingrid Bettwieser and Rüdiger Hahn, Pedagogical Service of the Ravensbrück Memorial offer a wide range of international youth education for active and creative engagement with the history of the Ravensbrück camp complex and the memorial as a place for historical and political education.
Lydia Konsta, MA Film Art, studied at the Northern Media School and at Sheffield Hallam University, film director / producer with international experience. Lydia graduated in performing arts and is a theater and experimental writing teacher. She lives and works in Thessaloniki and as director of the film "The Light Thickens" she deals in a special way with the time of the German occupation of Greece.
Hana Sebestova, ΜΑ Arts Teacher, human rights trainer of the Council of Europe is based in Corinth and studied art science and music in Slovakia and the Czech Republic. Hana has organized numerous international youth exchange projects in recent years.
Panos Poulos, Dipl.-Pol., Youth consultant, studied political science in Athens and Berlin. He had his first professional experience in the field of youth exchange in Germany, returned to Greece in the mid-1990s and was one of the founders of the Filoxenia association. In 2014 he founded the non-profit Elisson UG in Berlin. Panos has 30 years of experience in youth work and youth exchange."
(Information were extracted from the following website: https://elisson.org/en/footprints-in-silence-en/ )